Fundraisers in Reading, PA
Chatty Monks can help you raise money for your organization
Looking for places to hold a fundraiser in Reading? Come to Chatty Monks! We love giving back to our community, and we've made it easy for you to raise funds for your local sports team, service club, non-profit organization, a family in need, or one of many other goals.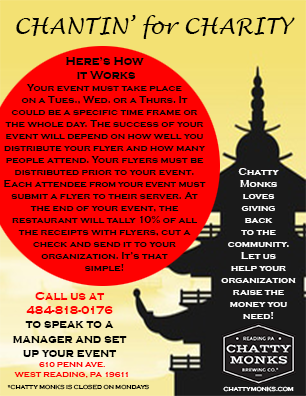 How our Chantin' for Charity program works
Choose your Chantin' for Charity fundraiser day. It must be a Tuesday, Wednesday or Thursday. You can specify a time frame or the whole day.
Call Tom, our General Manager, at 484-818-0176 to check availability and reserve your fundraiser day.
We'll hook you up with flyers to give out before your event—be sure to tell everyone who gets a flyer to bring it in on your fundraiser day so their purchase will count. This step is key. The success of your event will depend on how well you distribute flyers and how many people attend.
Each patron who comes to Chatty Monks during your fundraiser event must submit their flyer to their server.
At the end of the day, Chatty Monks will tally up receipts and donate 10% of the event's proceeds to your oganization.
It's that simple!
What type of group can do a fundraiser at Chatty Monks?
Athletic Teams
Cheerleading Squads
School Programs/Clubs/Bands
Community Projects
Boy Scouts/Girl Scouts
Memorials
Health Associations
Fraternities/Sororities
Scholarship Funds
Veteran Projects
College Organizations
Mission Trips
Key Clubs
Or just about any non-profit organization in need of funds….we can help! Just the flyer above, read about how easy it is, contact us and the rest is up to Chatty Monks.
Start Your Own Fundraiser Here at Chatty Monks Now!
Call 484-818-0176 and ask for Tom